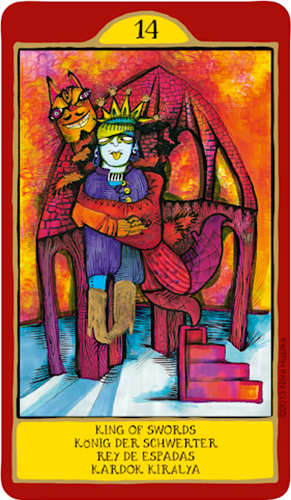 ARIES: King of Swords
This month you're likely to be thinking more about doing business and finding your place in the world than anything else.
With a line-up of planets moving through your 8th house — the area associated with joint resources and other people's money — as well as Mars (your ruler) joining Pluto in your public sector, the focus is going to be more on career and professional achievements.
The King of Swords is all about power and authority. Success, Accomplishment. Strategy. Intelligence. You'll have all of these things at your fingertips and should be taking advantage of them — particularly in the first two weeks of the month.
This is a time for putting your ideas out there — verbally or in writing — and communicating them to others. It's not the time for ambivalence or uncertainty.
Look at the King in this card. He's a bit more colorful and flamboyant than we're using to seeing with the King of Swords. He's usually rather stoic and somber.
But this whimsical version is just spirited enough to capture the dynamic and playful Uranus in Aries transit you're dealing with and just dignified enough to capture the Mars in Capricorn transit you've got moving through your 10th house.
This King says you can have the best of both worlds. It doesn't have to be all work and no play. And you won't get anywhere if it's all play and no work.