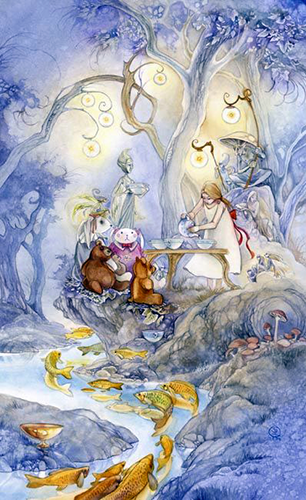 Six of Cups
You may feel the urge today to reach out to those who remind you of life's simpler pleasures, such as a family member or a childhood friend.
The Six of Cups speaks of innocence, wonder, sentimentality and reminiscing about the past. You may be missing someone, longing for the comforts and companionships that have gone by the wayside over time.
You could also hear from an old friend unexpectedly today. Someone who's been on your mind and who takes you on a trip down memory lane, reminding you of long-forgotten events that come rushing back to you in a wave of nostalgia.
This card is also about fantasy and make-believe. Notice the young girl in this card hosting a tea-part among her imaginary friends. Along with her treasured childhood toys there are birds, fish, fairies and elves.
Five of the six cups are teacups and the sixth is a golden vessel on an outcropping by the stream.
There are symbols here of abundance (fish), emotions (water), and luck (the 6th golden vessel). But it's the sweetness and sincerity that stands out the most.
This is also true of memories — especially the happier memories — which tend to take on softer hues when we look back on them with longing.