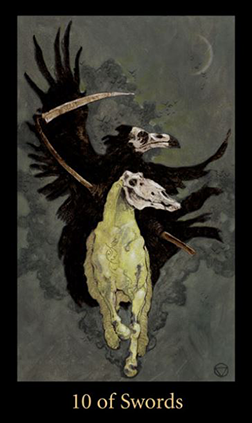 "What does not destroy me, makes me stronger." – Friedrich Nietzsche
What do you do when you come to the end of as arduous journey and find yourself facing a very painful reality?
Perhaps a relationship has run its course, and you're forced now to finally put it to rest. Or maybe a dream you held onto for far too long is proving itself to be impossible to achieve.
You know that you've given it your all — you've fought a worthy battle — but you realize it's time to let it go: once and for all. You just don't have any more "fight" left in you.
So what do you do? Do you lay down and die, or do you surrender to the knowledge that the Universe has something entirely different in store for you?
Most renditions of this card are somewhat harrowing to look at.
The imagery is often full of scenes of danger, fear, bloodshed and defeat.
A man is beaten down to within an inch of his life, 10 sharp daggers plunged into his back. Or a Christ-figure hangs limp from a war-ravaged cross, a pool of blood collecting at its base.