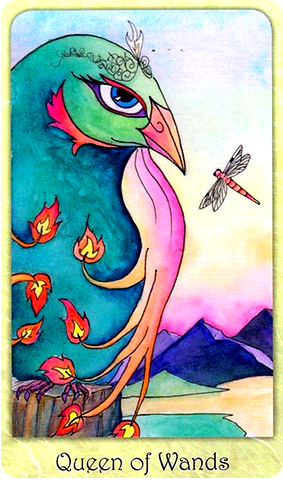 ARIES: Queen of Wands
You may look calm and peaceful on the outside as if you hold the secret to the pyramids within you and could endure anything.
But just look at those flames flickering at the end of each wing… almost as if you are ready to "take off" or launch into a blazing mood which comes from nowhere.
This is a time to sit back and weigh up your options without the distraction of others and what they think, say or do.
Keep your own counsel and act accordingly with what is right for you. You have your eye on the outcome and know how to achieve it.
Notice how the bird in this card keeps her eye on the dragonfly… she is not about to let anything get in her way or dissuade her from the course she has chosen.
You have the energy within you to make your dreams come true… wish wisely and don't waste your time and energy on the mundane.