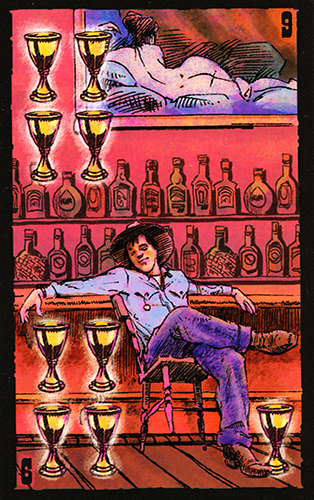 Nine of Cups
Today — with the planet of love (Venus) in hard aspect to the planet of excess and overindulgence (Jupiter), you could find yourself tempted to overdo it in some areas.
The Nine of Cups is associated with appreciating the finer things in life. With a natural fondness for luxury, comfort, sensuality. composure, self-indulgence, and tranquility. And potentially with excess, depending on how fond of those things — and how susceptible to their charms you are — at this point in your life.
Overall this card speaks of getting to where you feel comfortable enough to kick your heels up and start enjoying the fruits of your labors. And while you may not be exactly there just yet, this card indicates a sense of accomplishment and pride in how far you've come.
Here we see a man leaning back and draping his arms across the what looks like a well-stocked bar. He doesn't appear to have a care in the world.
A large painting of a tastefully concealed nude woman hangs on the wall in the background. Everything about him is relaxed, right down to the trust he places in his rickety chair.
This Venus / Jupiter aspect can be a bit careless. As in trusting too much and taking too many chances. But there's an element of luck there too, which seems to offset the risk.