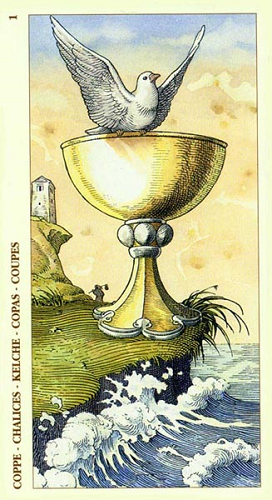 Ace of Cups
The suit of cups denotes feelings and the Ace of Cups is no exception.  It speaks of love.  Whether this is love of self or love within a relationship it forces you to look at it and what it means for you.
In this version of the card we see a white dove perched precariously on top of the cup which looks as if it is about to tumble into a stormy sea.  Water (the sea) stands for emotions and these are looking a bit turbulent as the waves break onto what is left of the headland upon which the cup sits.
You may wish to keep in mind that even though things within your relationship (or within yourself) are not all smooth sailing you can endure through most of it and stick things out for another day (as with the farmer in the background who has been attending the fields). Underneath the cup is the field the farmer has been attending to.  Look at all the hard work he has put into it only leaving a few weeds out towards the headland overlooking the sea.  Love sometimes is not all smooth sailing.  
There are ups and downs and there is endurance where both people know each other so well that there is no need to speak things through as the underlying feeling of love between them means they know the relationship will endure even through hard times and they're both willing to put the work into the relationship to make this happen without the need for a "pat on the back" or acknowledgement from their partner.