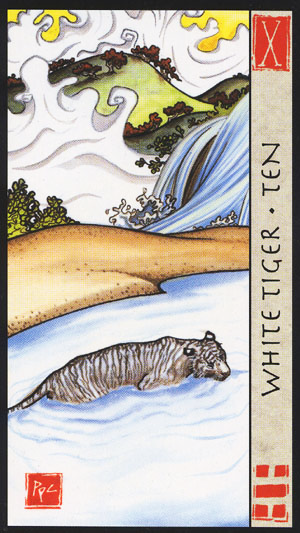 White Tiger Ten
Today's Mars / Uranus opposition may have you feeling like you're swimming against the tide, or like you're surrounded by turbulent waters that are rising all around you.
But the Venus / Neptune trine offers a peaceful respite, as seen in the imagery of this card. The waters may be swirling all around the Tiger — and raging in the background — but he doesn't fight against the current; he surrenders to its movement finds a place of calm in its center.
This is the Feng Shui Tarot's version of the Ten of Swords. It's called the White Tiger Ten in this deck, a reference to the completion of the Tiger's tumultuous journey.
Surrender is a big factor in this card. Surrendering to the knowledge that what you may have wanted so desperately was not what you needed at all. As the Ten of Swords is often tied to fighting a losing battle — and ultimately giving up the fight — there's a sense of liberation that comes from cooperating with the Universe rather than pitting yourself against it.
This is the essence of the Venus / Neptune trine. Going with the flow, finding creative solutions to your problems and aligning yourself with unseen forces.
You may have to concede to a few losing battles, but you'll also want to look at how it's brought you to where you are today. Are you not now a stronger and better person as a result? Take some time to put the past behind you and focus on what lies ahead. You may see all that's led you to this moment as a blessing in disguise, as long as you're willing to embrace the changes to come.