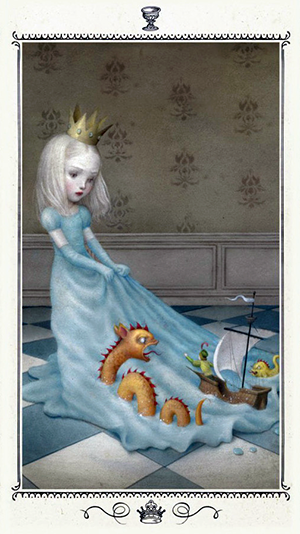 King of Cups
The King of Cups is intuitive, sensitive and wise.  And in this version, he is a she. And what, pray tell, do you think she is doing looking like a little girl in a nursery playing with her toys? If you look closely though you will see that the gown she is wearing actually mimics that of a sea.
The boat, with the young man… whose hands are held out to her, is actually sailing towards her and the sea dragons who surround him in an effort to hold him back are also creatures within the "sea" of her dress.
Today the moon is in Scorpio and it follows close on the heels of yesterday's full moon eclipse in Libra. Whilst Libra is the sign connected to relationships… Scorpio is the sign of secrets and our unconscious desires. It is a sign of intensity and no half measures yet this image of the King of Cups says it's ok to play around a little with what you are feeling, nothing is going to come up and grab you as long as you keep the "nightmares" away from you.
These nightmares may encompass a relationship where you are keeping the other person at arm's length in a bid to keep yourself safe because your feelings have been hurt in the past and you are not willing to open your heart again and let them in.
If you find this is the case and the other person is willing to go through thick and thin to break down your barriers even at great risk to themselves then you may wish to cut them some slack and shake out those demons which are not only holding you back but holding the whole situation back as they stop anyone getting close to you.