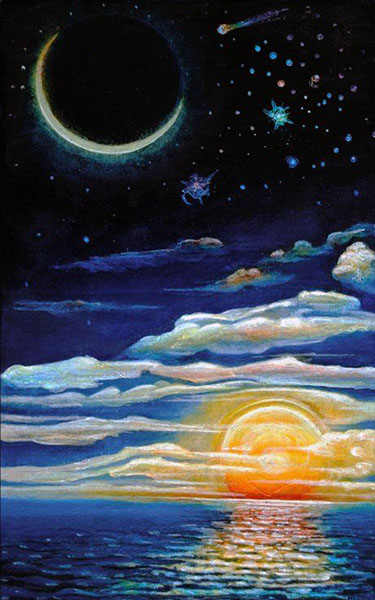 Astrologically speaking, most people know their Sun signs. You'll hear people say "I'm a Leo" or "I'm a water sign (referring to Cancer, Scorpio and Pisces Sun signs)," or "I was born on the Virgo/Libra cusp."
And many believe that that's all there is to it. Nothing could be further from the truth!
The Moon sign is not only just as important as the Sun sign, sometimes it's even more important.
Eastern astrologers, for example, are more interested in Moon signs than Sun signs, and in many areas almost everyone knows their own Moon sign from an early age.
Sun sign astrology (horoscopes) became popular because the Sun's zodiacal position is the only one that can be determined by birth date alone. The Sun occupies the same relative position in the zodiac on the same day every year. That makes it easy for laypeople to know their own Sun signs, without having to consult an astrologer or navigate the complicated waters of in-depth astrology.
Even though the Sun is over 400 times the size of the Moon (another reason some place more importance on it), it's also over 400 times further away. This is why they appear to be relatively the same size from our vantage point. It's also why we have Solar and Lunar eclipses.