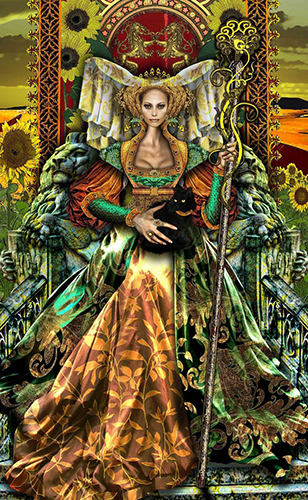 Queen of Wands
Today is the last day of Leo — before the the Sun moves into Virgo. And while Leo is best known for making a grand entrance, it's no stranger to going out with a bang either.
The Moon is also in Leo today and for a period of time it's situated right between Venus and Jupiter (if you're up in the wee hours before sunrise, you should be able to see the early stages of this line up, before the Moon takes center stage).
Today's card — Queen of Wands — fits this energy perfectly. She's strong, dynamic, majestic and proud. She's a natural leader whose confidence and warmth make her stand out in a crowd.
This regal Queen is loaded with Leo symbology. From the Lion statue armrests to the Coat of Arms behind her to the array of Sun- (ruler of Leo) flowers all around her, to her elaborate clothing, headdress and "mane." The predominant colors — oranges, golds and greens — are also distinctively Leo. 
This is a strong, dynamic woman — and not someone to be trifled with. Notice her stern gaze and also the protective watch of her "familiar"seated on her lap. Cats are known as guardians of the Otherworld, and black cats specifically as keepers of life's secrets and mysteries. She's seated comfortably but would be ready to pounce at a moment's notice so you better not cross her.