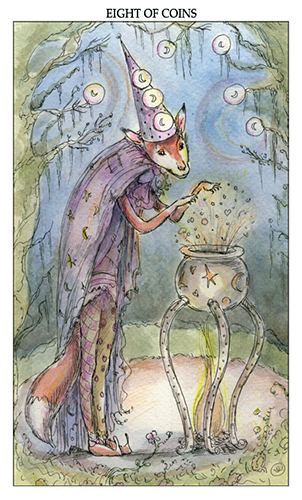 Aries: Eight of Coins
This month, you'll be thinking about doing business and being more productive. You'll be focusing on honing your craft and turning your skills into something you can be proud of.
The Eight of Coins is a card of craftsmanship. It can be as simple as being 100 % focused on your work and demonstrating your level of dedication and service. And it can be as innovative as taking something you're uniquely capable of and turning it into a career.
In this version of the card — from the Joie de Vivre Tarot — a Fox in wizard's attire conjures up a magic potion. He stands over the bubbling concoction as the cauldron sizzles and boils.
Five disks hang from the limbs of the trees behind him and three are pinned to his pointy hat. He's so good, he can afford to take his eyes off the mixture.  But he doesn't dare step away: the completion of this project depends on his being right there to make it happen.
The Eight of Coins is also known as the apprentice card. It refers to taking on an interest — a new one or a lifelong dream — and devoting yourself fully to it. It doesn't have to be career related, but since it's a labor of love wouldn't it be great if it were? Making a living doing what we love is something we all aspire to achieve.