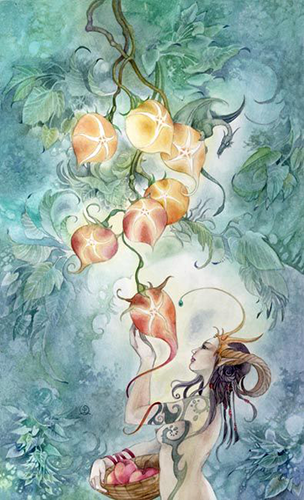 Aries: Seven of Pentacles
Now would be a good time to re-evaluate a recent decision and decide your next move. Do you proceed as planned? Change directions? Or throw in the towel and start all over again?
The Seven of Pentacles — this version from the Shadowscapes Tarot — indicates a need for patience to see something through. But it can also trigger feelings of disappointment or frustration over that something taking too long to produce results.
That also brings in the potential that as those results develop they turn out to be not what you thought you wanted in the first place. You could be involved in a relationship that's just not working out the way you hoped or a career-path that turns out to be unrewarding.
You may be mid-way through a college degree and find yourself wondering if you should change majors, or moving halfway around the world and realizing you're homesick.
The Seven of Pentacles — like all Sevens — refers to delays, dilemmas and decisions that are not easy to resolve. This card can refer to a pause or a setback, a choice between disparate paths, or even a change in direction late in the game.
This card represents finding yourself a pivotal juncture that there's no easy answer for. If you find yourself at a crossroads — wondering whether it's best to hang in there or to hang it up and start all over again, your best move may just be to step back and give it some time.