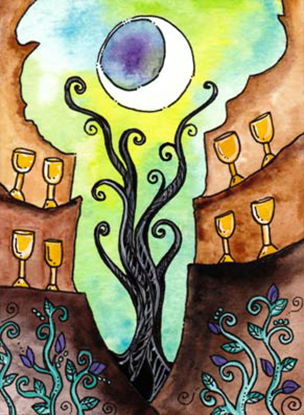 ARIES: Eight of Cups

This month may see you taking steps toward leaving behind something that no longer sustains you.
The Eight of Cups — this version from Dana Driscoll's fabulous Tarot of Trees — refers to getting in touch with your values, which can be a painful process. It involves forcing yourself to face certain realities and walk away from something (or from someone) that doesn't live up to them.
On the upside it means taking the high road and making a transition. But that doesn't mean it's going to be easy. The Eight of Cups requires you to let go of something — a dream, a relationship, a set of goals, etc. — in order to move to that higher ground.
This is a card of transition, but unlike most, this one comes from conscious choice. It's not a matter of the Universe throwing a curve-ball at you: it's a decision arrived at though the realization that what once fulfilled you no longer does.
You may feel alone or abandoned during this time — rejected by a loved one or peers. Yet it's your own discontent that prompts you to "walk away," rather than trying to keep up the pretense that those who let you down were ever truly on your side.
This doesn't refer to loss so much as it does to seeing things more clearly and then using that new-found clarity to head toward higher ground. Like the brightly shining crescent moon in this card, it's about new beginnings rather than endings. You can see this card as an invitation to strike out on your own, follow your own path and pave your own way.