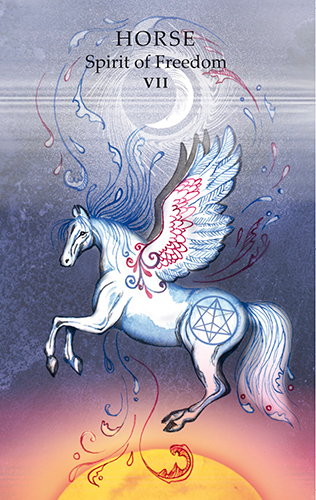 Aries: The Chariot 
With several planets retrograde at the beginning of this month, you could be dealing with feelings of restlessness and frustration, and longing to break free.
This is especially true with your ruler (Mars) debiliated by sign, in addition to both of your relationship rulers (Venus and the Sun).
But fortunately, things will start picking up for you in the 2nd week, starting with Venus changing signs, Saturn going direct and the New Moon falling in your sign.
During this time, you could be feeling a renewed sense of freedom and liberation — as if a weight has been lifted off your shoulders and been replaced with wings to fly.
The Horse — Spirit of Freedom in the Animal Wisdom Tarot — is this deck's version of the Chariot. Here the Horse has taken flight and is balanced between Sun and Moon, which is associated with day and night, or will and intuition.
The Chariot is all about harnessing your inner reserves of strength and power. In this deck the emphasis is on liberation, emancipation and being freed from the chains that bind you.
Starting on the 19th, when Jupiter goes direct and the full Moon occurs in the sign, you should start to feel that your spirits are lifting as you ascend to higher realms. You'll still have to work on harnessing your baser instincts, but know that in doing so your goals are much closer to your reach.