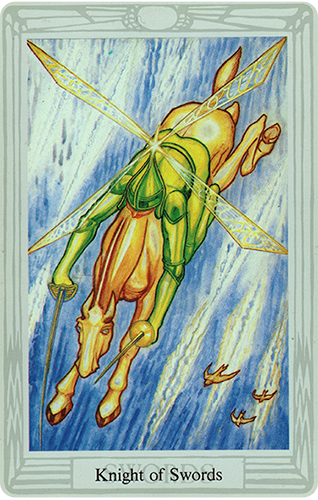 Knight of Swords
The Sun and Mars come together in Gemini today, and may see you feeling the need to think and act more quickly.
This aspect is good for clearing the air and for getting on with things rather than dwelling on issues that have been holding you back. It's good for cutting through confusion and uncertainty and just "doing it" rather than perseveration on whatever's been standing in your way. And it's a good time to "wing it,"especially if you've been caught up in details rather than looking at the big picture.
If you have something to say, now is the time to say it — as long as you temper your words with kindness and diplomacy. This transit (as well as this card — from Aleister Crowley's Thoth Tarot) can be impatient, forceful and aggressive.
The Knight of Swords wants to hit the ground running. Or hit the air flying as is depicted in this card. It's all about being on the go, getting things done, cutting through the BS, and shooting first and asking questions later.
This Knight is a trailblazer. He slices through the air with his dual (Gemini) swords and moves so fast that he doesn't even need the propellers that are supposed to keep him aloft. He's faster than a speeding bullet, faster than the gulls flying behind him. Notice that he's steering his horse down (toward the earth). He's not just going somewhere, he's coming from somewhere too.
This is not the day to be lollygagging around. And it's not the day to be wishy-washy about your goals. It's a day for action and energy. Motivation. Movement. Direction. Decisiveness. Take a page from this Knight's book today and get yourself moving, as you have places to go and people to see.