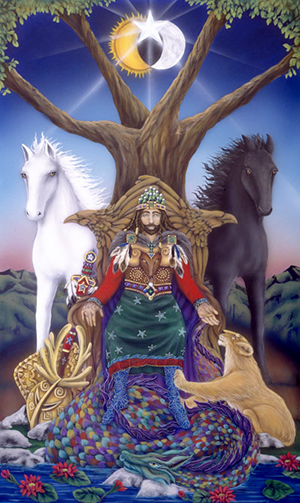 The Emperor
Today's Sun / Saturn trine can make what's seemed like hard work in the past now feel almost effortless. What better way to use this energy than to channel it into something productive and success-oriented?
The Emperor card is all about stepping up to the plate and assuming a position of authority. It's about striving for personal and professional success. And it's about wielding your personal power in a fair and just manner.
The Emperor in this version — from Cathy McClelland's gorgeous Star Tarot — is seated on a throne beneath a Sun / Moon / Star formation. The Sun and Moon are involved in an eclipse pattern, with the Morning star Venus shining between them. The white and black stallions on either side represent both masculine and feminine energy, and the lion cub illustrates his ability to soothe and guide those who look up to him for leadership.
The dragon slumbering beneath his feet represents the four elements as well as the spiritual power he possesses. The Emperor is the 4th card, and the references to the number four are repeated throughout the imagery of this card.
The four elements as stated above, but also the four seasons, the four directions and four phases of the moon and four geometric shapes — circle, square, triangle and line — are also all referenced here.
The message behind this card is one of taking care of business. It's not the time to be passive or wishy-washy. It's all about stepping up and taking control of a situation that requires a firm hand and authoritative presence.
Whether you are a parent doling out "tough love" or a supervisor having to strong arm an employee or just taking back your power in a personal relationship, remember it's important to temper that with kindness and compassion. Just like the wise old Emperor in this card, a protective gentle approach is just as important as a firm steady hand.