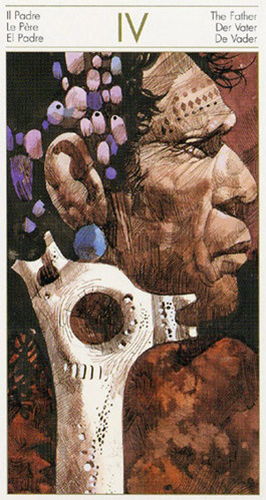 The Father
Saturn turns direct today after almost 5 months in retrograde motion. As a result, it may start to feel like it's time to take charge of your life and your responsibilities.
The Father card — the Tarot of the Origins version of the Emperor — refers to stepping up to the plate and assuming a position of authority. It's about striving for personal and professional success. And it's about wielding your personal power in a fair and just manner.
This card symbolizes worldly acclaim and ambition. But it's also tied to personal obligations, such as areas in your life where you may need to take on a parental role.
You may be called upon to counsel another or to offer guidance based on the wisdom of your own experience. Or like the Father figure in this card, your greatest gift may be the ability to truly hear what others have to say without judgment or censure.
Although there are definite masculine elements to this card, the references don't only apply to men. It can refer to a single mother, a career-woman, or a woman with important responsibilities. It can also describe a man in your life (or someone new coming in) who embodies these qualities.
Mercury trines Uranus today as well. This aspect says that you don't have to only rely on the wisdom of the ages when it comes to making decisions.You can move toward the future and embrace the idea of thinking outside the box, while still honoring those ancient traditions.