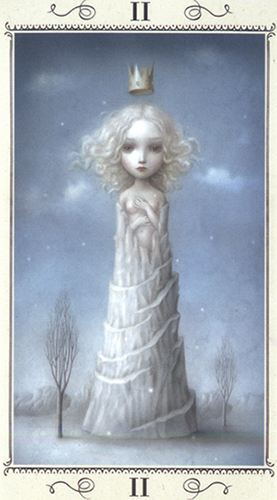 High Priestess
While you have possibly been feeling a bit trapped and held back in recent days, you are still brimming with ideas. It's just a matter of releasing yourself from any self imposed doubts or situations that may be holding you back.
Neptune goes retrograde today and Venus sextiles the North Node. Together these transits can act to diffuse the barriers between your conscious and subconscious mind and open you up to more creative and inspirational thinking.
The High Priestess in this card seems to be encased in an ice castle which can double as a prison or a cocoon.
Sometimes when we keep ourselves trapped within a situation or way of thinking we do so to protect ourselves or protect other areas of our lives.
The crown floating about your head implies that you are ready to make changes and fairly brimming with new ideas on how to do so.
First things first though… how will you take the first step to change?
Will you thaw the ice that encases you or will you transform your life and emerge as a butterfly from a cocoon?
Either of these options may not be as difficult as you envisage.
There's a lot of self love around for you as can be seen from the hand placed over your heart and even though others may think of you as a bit of an ice queen you have the power within you to transform all around you… including yourself.