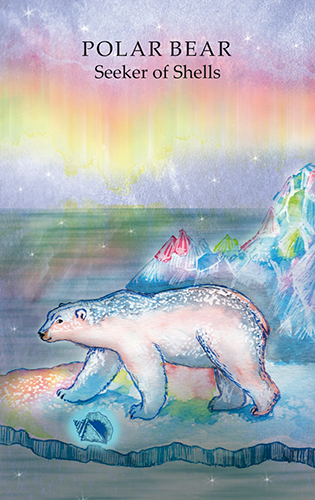 ARIES: Polar Bear
This month is going to be all about getting in touch with your environment and getting clarity with respect to your emotions.
Where do you fit in and where do you feel most at home? These are questions you'll be asking yourself this month, courtesy of the Polar Bear — or Seeker of Shells (Knight of Cups) — animal totem.
The Polar Bear is not only completely at home in this version of the card — from the Animal Wisdom Tarot — but he's adapted beautifully to his environment. He's strong and competent, yet light-footed enough to trek comfortably through terrain that could be hostile to others.
Notice the crystals that are forming on the snow, the ice and in the sky above. There are symbols of clarity throughout the imagery of this card, and even glistening on the Polar Bear's fur.
The Aurora Borealis overhead and the glowing conch shell at the base are reminiscent of glistening jewels, as is the glittering crystal backdrop and the vibrant array of colors that wash over the scene. The Seeker of Shells is a virtual rainbow of emotional expression and experience.
Think about ways that you can translate what you're feeling this month into experiences that can be shared with your loved ones. With several planets moving through the sector related to home and family, this is a good place to start.
Your environment — that place you're most comfortable and where you feel most complete — comes to life as you devote yourself to fostering your relationships therein.