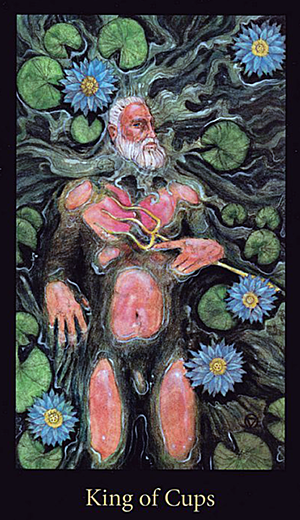 King of Cups
Today's Moon in Cancer can be a bit tricky. On the one hand it encourages you to immerse yourself fully in the realm of feelings, intuition and emotions.
And on the other hand it spends a good part of the day in hard aspect to Mars, Pluto and Uranus — the three most intense, aggressive and tumultuous planetary energies out there.
What this means for you is that getting in touch with your feelings today can bring some things you've been struggling to deal with (or avoiding entirely) to the surface.
Look at the King of Cups in this card. He appears as a Poseidon-like figure, naked (open, receptive, exposed) and submerged in a pond filled with lotus blossoms (purity and enlightenment).
You can see how he's become almost one with the murky waters that surround him, in fact you can't tell in some places where the water ends and he begins.
Notice that his trident is also partially submerged and its tines have been distorted by the play of light on the surface of the water.
The King of Cups is about more than just getting in touch with your feelings. It's about learning contain and control and master them. While it's clear there is some turbulence in the water that surrounds him, you can see how this King is able to maintain his composure.