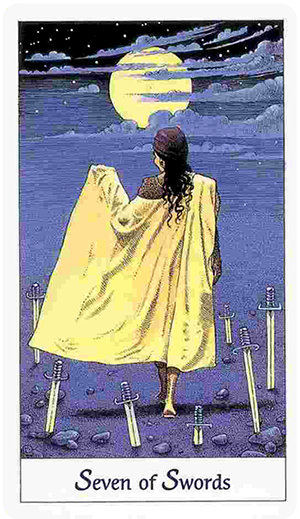 Seven of Swords
Today — with Mercury and Jupiter in semi-sextile — you want to work on trusting your instincts and staying tuned in to your environment.
The Mercury /Jupiter aspect can act as a trigger for internal conflict and mental discord. Anxiety. Uncertainty. It can cause you to be touchy or "jumpy," guarded and apprehensive.
You could be dealing with trust issues, as in questioning other people's motives or agendas. You could be questioning your own instincts, or fretting over something that just feels "off. It can be especially challenging for you to navigate through uncharted territories, much like the woman in this version of the card.
There are elements of fear, uncertainty and even paranoia associated with this card. This usually comes from overthinking and over-analyzing things to the point where your own intuition becomes hopelessly compromised.
While there's no question that there are situations that call for you to be more guarded, you don't want to make things worse by projecting your suspicions onto others.
The Seven of Swords calls for you to be mindful and alert, but you want to be just as aware of the potential for jumping to illogical conclusions.
This Mercury Jupiter transit is considered "minor" but it can wreak a lot of havoc. Especially if you're easily distracted or given to emotional reactions.