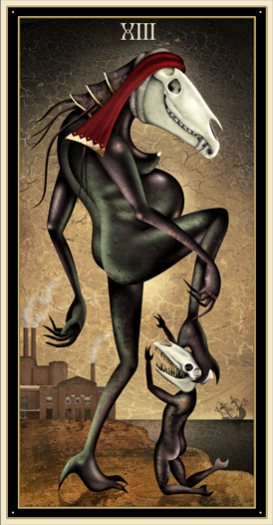 Death
Today — as Mars moves into Scorpio — you may be called upon to make the ultimate sacrifice, in the form of giving something up that you've been clinging to for far too long.
It may be a relationship, a job, a dream, or even an out-dated belief system that is no longer conducive to your growth. Whatever it is, it's going to feel like a loss, and may bring with it a period of mourning.
The Death card can be frightening, as it promises both loss and change — two of the scariest notions that any of us are ever faced with. But Mars is essentially dignified in Scorpio, meaning that it works well in this sign (as opposed to the disharmony and discord it experienced through its long 7+ month transit through Libra).
In this respect, it's more about leaving behind something that probably wasn't working for you anyway and moving toward something that you're naturally more aligned with.
In this rendition we see two figures: "Death" represented by a pregnant female corpse, and her groveling progeny underfoot.
The smaller figure reaches out for his mother, begging to return to the safety of her womb. But death holds him at bay — with a new baby on the way, there's just no room.
Think about what must be put to rest in your own life to make room for something new. It won't be something you're ambivalent about; in that sense it wouldn't really feel like a loss, would it? No it's something you've been holding onto — perhaps too tightly — that may be forcefully ripped away.