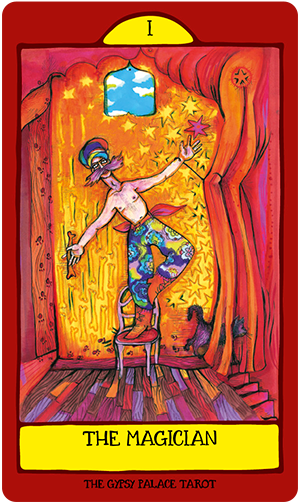 ARIES: The Magician

With Mars (your ruler) and Uranus in mutual reception now, it's going to be a high energy month for you, with just as much potential for things to go haywire as there is for magic to transpire.
The Magician card — this version from Nora Huszka's Gypsy Palace Tarot — encourages us to make the best use of all of the resources at our disposal. Especially during stressful times. The Magician — like the Fool — already has everything he needs. But unlike the Fool, he's consciously aware of it.
Sometimes it's about learning to harness those energies and sometimes it's about keeping them afloat. And sometimes it boils down to a precarious balancing act.
Notice the black cat exiting the stage on the right. He's left his paw prints all the way down the wall and across the backdrop. He's traipsed all over the stage yet doesn't seem to have distracted the Magician at all. That's the kind of composure you wan to cultivate during this time.
While Mars and Uranus bring in unexpected opportunities, there's also a Jupiter / Uranus opposition to contend with. This can be a volatile aspect that can wreak havoc on your relationships.
There are two ways to handle oppositions. The first one has to do with "owning" one side of the opposition and projecting the other one outwardly, onto another person or an event. The other is to see it as an opportunity to balance and integrate those opposing forces.
The first option often results in crisis (when it comes to Jupiter and Uranus, it doesn't matter which one you're owning and which one you're projecting — it's not going to be a picnic). And the other has the potential to create "magic" (especially when it comes to Jupiter and Uranus).
Your goal therefore should be head off conflict by working on balancing the "oppositions" in your own life. You may not be able to avoid confrontational people, but how you respond to them is entirely in your hands.That ability to harness your inner conflicts will ultimately provide you with the tools that can help you to handle the outer ones.