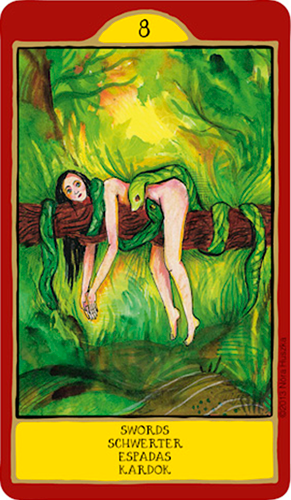 Eight of Swords
You may be thinking about you've gotten yourself tangled up in today and how much of it is of your own doing.
The Eight of Swords speaks of being wrapped up in something — often your own misery — to the extent that you're unable to see a way out.
If you look at the image in this card — from the gorgeous Gypsy Palace Tarot — you can see that the woman could easily extract herself from the serpents that have entwined themselves around her and chained her to the tree.
But she lies there looking almost dumbfounded and doesn't even try to move. She's stuck when she doesn't need to be stuck. She's allowed herself to become a victim of circumstances.
There's a definite inability to see the forest for the trees vibe to this card. And that all stems from being too focused on how you might be trapped rather than figuring out ways to get out.
Notice the Sun shining through the clearing on this card. And the pathway which is only partially obscured. If she wanted to plan her escape route, that's the first place to look, although it doesn't look like the woman in this card has even bothered.
You'll have to look at both how you've contributed to the situation you find yourself in and the best way to get yourself out of it. At the very least you'll have to find the motivation to start moving toward a solution.
That solution is likely right there before you, and it may be clear to others even if you can't see it yourself. You can either unwind yourself from the restrictions that have rendered you immobile, or you can retrace your steps and back yourself out the same way you came.