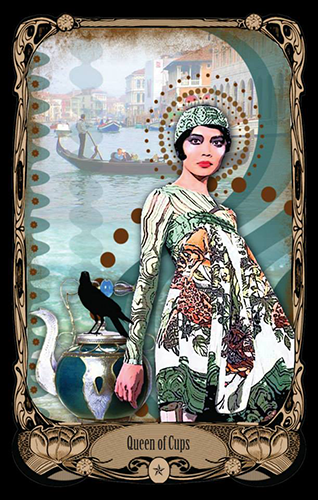 Queen of Cups
Today is a day for taking care of yourself as well as others and if there has been any imbalance between the two lately then it's time to take a look at that.
The Queen of Cups — this version from Charissa Drengsen's Steampunk Tarot — is sensitive, loving, nurturing and maternal. She may take on a motherly role among friends and co-workers. People look up to her and rely on her for guidance.
If this is you, you may need to remember how much people value you in this role. If you're so caught up in business or social affairs that you don't have time for one-on-one with those who matter most, it's time to take a second look at what's most important to you.
The Queen of Cups though may be someone in your life — a parent, older sibling, friend or supervisor. If this is someone in your life, know that she's got your best interests at heart.
She may be the person you need to turn to when you're feeling insecure or uncertain. She may also be a version of you that needs to be brought to the forefront.
Either way — it's all about giving and receiving comfort. Making others feel at home. Letting them know you are there for them. And being willing to take off your business attire and assume that role yourself.