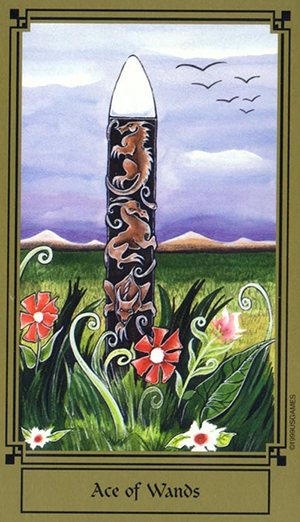 Ace of Wands
Today the Sun and Mercury move into Leo, shifting the focus from accessing our feelings and emotions to taking charge of our lives and making our goals a reality.
The Ace of Wands — this version from Nathalie Hertz's gorgeous Fantastical Tarot — is all about manifesting your dreams and desires. Taking your life in your own hands. Following your Bliss. And going after your goals with the kind of gusto that makes saying "Yes!" an absolute rather than a maybe.
It's about increased confidence, drive and enthusiasm. Ardor. Vitality. Passion. Creativity. Power. Potential.
The Wand in this card is a pillar of strength. The intricate dragon carvings suggest a sort of magical essence that is very much a part of the Ace of Wands. And there's beauty and creativity present here as well. The vines and wildflowers springing up from its base reminds us that this card is less about might and more about merriment.
The birds flying in from the distance tell us that there may be messages coming our way. These aren't always tangible (as in a verbal or written message). But can be gathered from our surroundings and applied just as powerfully.
The Ace of Wands is all about inspiration and potential. It invites you to ask yourself what you really want that you haven't (up to now) put your whole heart and soul into? And what are the chances of making it a reality unless you do? This energy is about offering your intentions up to the Universe with every reason to believe you will be rewarded for doing so. With this in mind, it's time to push all negativity aside and replace it with optimism and inspiration. If you're truly serious about manifesting your desires, there is no time like the present to do it.