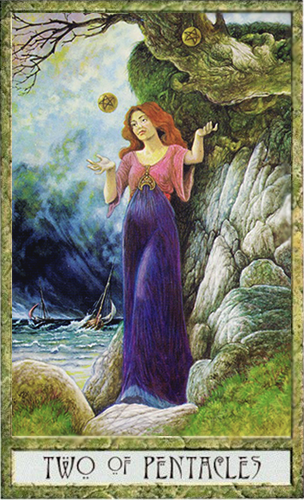 Two of Pentacles
Today it's going to be all about juggling the different areas in your life and finding ways to maintain some sort of equilibrium in the process.
It's about needing to be flexible and adaptable, as well as being able to shift from one task to another without losing focus.
.Notice the two pentacles the woman in is juggling deftly on this card. They look identical, and this may refer to their level of importance in the realm of larger considerations. But as far as what you want to accomplish today (as opposed to what needs to get done), they're probably not equal at all.
It could be work and responsibilities vs. pleasure and play. It could be relationships vs. autonomy. Or it could even be up time (productivity) vs. down time (rest).
Whatever it is, you don't want to be so focused on weighing your options that you lose sight of what's going on around you. In the midst of all this rocky terrain the woman in this card stands on solid ground. Yet there's a storm brewing in the background and shipwreck taking place right behind her.
Maybe she feels safe because she's somewhat sheltered from the storm. Or maybe she's so invested in trying to balance out her priorities that she doesn't even notice it. One thing's for sure: if she loses her concentration and ends up dropping the ball, everything she's striving for will fall out of balance.