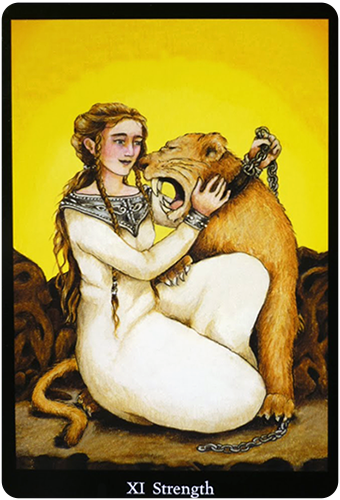 ARIES: Strength
This month you may be called upon to tame your inner beast, meaning that if you feel your emotions rising and you know they may get out of control if you give way to them then you need to reign those emotions in and find another way to express them.
On the surface you look happy and calm almost contented as if nothing can rattle you yet underneath a storm may be brewing.
Be on the lookout for anyone trying to press your buttons to seek a reaction from you. This may be of paramount concern to you this month with the Strength card — this version from the Anna K Tarot — as your talisman.
If you have been having trouble with someone and they know how to rile you then you need to be extra vigilant that you do not react the way they are hoping for. If you do you lose and they win.
The yellow sky shows a prevalence of mental abilities today yet if your mind is too cluttered with many different thoughts you may not get to the gist of what you are wanting to know.
The white dress shows you as innocent in some way… almost like a blank canvas waiting to see what sprouts forth. Whatever does come forth for you today you can be sure it will not be small.