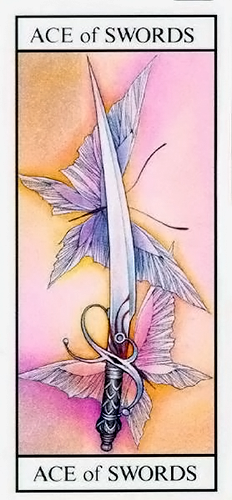 ARIES: Ace of Swords
This is a month of new thoughts and new ways of doing things. It is also a month for changing your thoughts and ideas on something.
Notice the butterfly wings around the Sword — from the Miracle Tarot. Venus turns direct this month, bringing grace, harmony, beauty and love to the forefront.
Even the sharp edges of the sword are not enough to deter the butterfly from being this near the blade. It is almost as if you can throw caution to the wind and say/do whatever you want. Well… perhaps not too much as Mercury is about to turn retrograde again.
Your thoughts are pure and aimed single-mindedly at the outcome you desire. If you have any mental tasks to accomplish do so whilst your mind is highly alert and focused on what you want.
The play of muted colours through this image give your clarity in anything creative you wish to succeed in alongside a transformative quality to the way they spring forth from your mind.
The blade looks sharp but don't be fooled as it will not harm you as long as you stick to your principles and deliver your words with care and grace nothing will stand in your way.